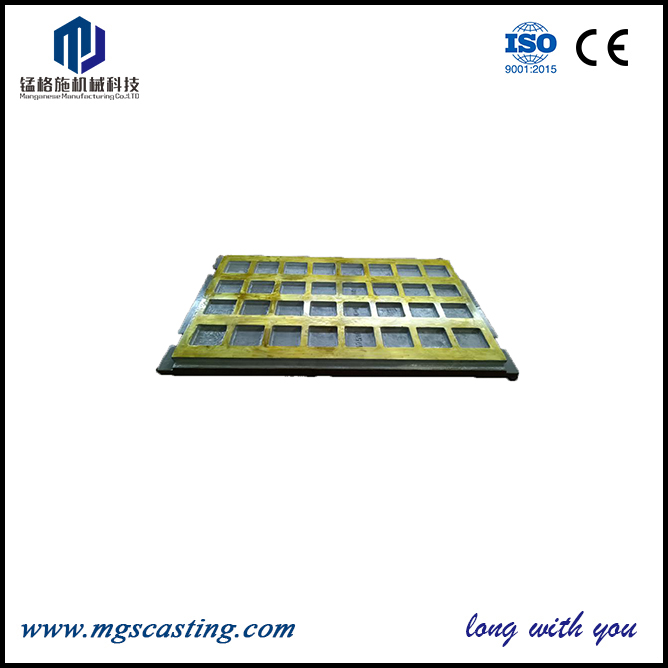 Jaw Crusher Wear Parts For Popular Crusher
MGS Casting, which is a manganese, chrome, and alloy steel casting foundry, offers a full line of Jaw Crusher Parts for various popular jaw crushers. Our replacement crusher jaws are engineered to last longer and crush more efficiently while reducing wear and tear on the crusher. Our jaw crusher manganese wear parts provide the highest possible wear life combined with mechanical reliability and numerous mounting possibilities. MGS Casting manganese jaw crusher wears are easy and economical to install and are available in all kind of jaw crusher cavity designs.
MGS Casting offers more jaw crusher plate styles than any manufacturer in the industry. Each of these designs has been developed for a customer seeking improved jaw crusher performance, including:
Machined surfaces for a consistent fit with less hassle and downtime
Large selection of tooth and curve configurations for optimum performance in any application
Unsurpassed alloys for extended wear life and lower cost per ton
MGS Casting's Jaw Crusher Wear Parts
Fixed & Swing Dies
Cheek Plates
Wedges
High Manganese 
TIC Inserts 
High Manganese Jaw Crusher Wear Parts
High manganese steel, also called Hadfield steel, is an alloy steel containing an average of around 13% manganese. it is known for its high impact strength and resistance to abrasion once in its work-hardened state. Most of crusher wear parts foundries use high manganese steel to cast jaw crusher wear parts, its chemical composition:
Material
Chemical Composition(%)
Mechanical Property
C
Si
Mn
Cr
AK/cm
HB
Mn13Cr2
1.1-1.4
1.7-2.2
12-15
1.7-2.2
>140
≤220
Mn18Cr2
1.1-1.4
1.7-2.2
17-19
1.8-2.2
>140
≤230
Tic Insert Jaw Crusher Wear Parts
MGS Casting titanium carbide (TiC) jaw crusher wear parts are designed to increase the wear life of wear parts in abrasive environments. Titanium carbide columns are cast within proprietary alloys for added strength and durability.
MGS Casting proprietary alloys and innovative designs result in longer wear life compared to other OEM replacements. Titanium Carbide (TiC) options are available for even longer wear life. Custom designed to suit your needs, MGS Casting Jaw Plates and Cheek Plates are engineered to suit the specific needs of your application.